"That caterpillar sure woke up on the wrong side of the bed!" -a Pianta (Super Mario Sunshine)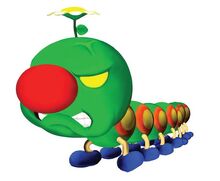 The Wiggler is a boss encountered in Super Mario Sunshine.
Super Mario Sunshine Edit
The Wiggler first appeared in Episode 9, in "Gelato Beach- Episode 2: Mirror Madness! Tilt, Slam, Bam!" where he his awoken by Mario's battle with the Plungelos. After being awoken, in Gelato Beach- Episode 3: Wiggler Ahoy! Full Steam Ahead!", rampaged through Gelato Beach. He was eventually defeated by Mario and F.L.U.D.D., bringing peace back to the beach.
Community content is available under
CC-BY-SA
unless otherwise noted.