TheRunawayGuys, often abbreviated as TRG, is a collab LP channel starring Chuggaaconroy, NintendoCapriSun, and ProtonJonSA. The channel has done over twenty collaborative LPs, or collabs, beginning with Mario Party.
Main Members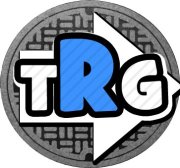 Guests
Main Collabs
Mario Party (N64)
Mario Party 2 (N64)
LittleBigPlanet (PS3)
Wii Party (Wii)
New Super Mario Bros. U (Wii U)
Castle Crashers (Xbox 360)
Mario Party 3 (N64)
New Super Luigi U (Wii U)
Dokapon Kingdom Story Mode (Wii) (Currently running alongside Rayman Legends and Super Metrioid)
Mario Party 4 (GCN)
Rayman Origins (XB360)
LittleBigPlanet 2 (PS3)
Super Mario 3D World (Wii U)
Sonic Adventure (Xbox 360)
Super Mario Bros. 3 (NES/Wii U)
Mario Party 5 (GCN)
Kirby's Dream Course (SNES)
Rayman Legends (Wii U/PS3/PS4/Vita/X360/X1/PC) (ongoing)
Super Metroid (SNES) (ongoing)
Side Collabs
Tournaments
Super Smash Bros. Brawl (Wii)
Mario Power Tennis (GC)
Super Smash Bros. (N64)
Bomberman Livefest
Mario Kart: Double Dash (GC)
Super Smash Bros. Wii U
Trivia
TheRunawayGuys have always had other Let's Players such as, JoshJepson, Lucahjin, SuperJeenius, etc.

Other commonly suggested LPers who have yet to make an appearance on TRG include; PhantomSavage and KZX (AKA the BastardBrothers)

TheRunawayGuys changed their background on their channel. It used to be a city with a bunch of gaming references like a billboard that said "Kirby's Kitchen" and a warp pipe on a building. Now it is just a city, with an arrow that says "TheRunawayGuys" and pointing at animated faces of NCS, Chugga, and Jon.
The animated faces on the channel were made by ACFan120, who has made TheRunawayGuys animations previously. 

Currently, MasaeAnela has drawn the ones they're currently using on the endslates.

TheRunawayGuys have begun using Waluigi as a running gag, coming up with ideas for his backstory from stuff they experience in games with him. Thus far they have that:

Waluigi runs a Bridal Boutique.
Waluigi likes Superman.
Waluigi is married to Bowser.
Waluigi forgot their anniversary.
Waluigi has a coffee shop named Wabucks.
Waluigi ate Kirby's Strawberry Shortcake.
Waluigi is the only person who likes the Phillips CD-I Zelda games.
Waluigi is a cab driver
Community content is available under
CC-BY-SA
unless otherwise noted.