TheRunawayGuys, often abbreviated as TRG, is a collab LP channel starring Chuggaaconroy, NintendoCapriSun, and ProtonJonSA. The channel has done over twenty collaborative LPs, or collabs, beginning with Mario Party.
Main Members
Co-Producers
During the November 7th, 2019 stream, Chugga bet the channel with their two guest stars. Following the loss of the bet and the beginning of Mario Party 8, these two are considered the 'co-producers' of the channel.
Guests
Tournament Participants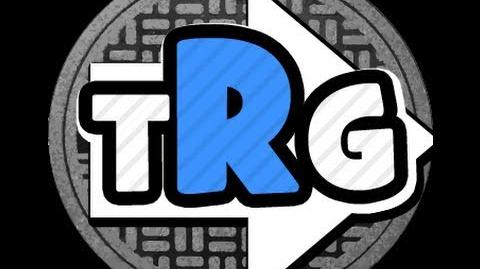 Collabs
Main article: Collabs
Main Collabs
Mario Party (N64)
New Super Mario Bros. Wii (Wii) (with JoshJepson)
Mario Party 2 (N64)
LittleBigPlanet (PS3) (with Lucahjin)
Wii Party (Wii)
New Super Mario Bros. U (Wii U/NS) (with JoshJepson)
Castle Crashers (XB360/Switch) (with SuperJeenius)
Mario Party 3 (N64)
New Super Luigi U (Wii U/NS)
Dokapon Kingdom Story Mode (Wii)
Mario Party 4 (GCN)
Rayman Origins (XB360/Wii/PS3/Vita/3DS/PC)
LittleBigPlanet 2 (PS3) (with Lucahjin)
Super Mario 3D World (Wii U/NS) (with MasaeAnela)
Sonic Adventure (Xbox 360)
Super Mario Bros. 3 (NES/SNES/Wii/Wii U)
Mario Party 5 (GCN)
Kirby's Dream Course (SNES)
The Legend of Zelda: Four Swords Adventures (GCN) (with StephenPlays)
Rayman Legends (Wii U/PS3/PS4/Vita/X360/X1/PC/NS) (with TomFawkes)
Super Metroid (SNES)
Mario Party 6 (GCN)
Wii Party U (Wii U)
Pokémon Snap (N64/Wii/Wii U)
Mario Party 7 (GCN)
The Legend of Zelda: A Link to the Past (SNES/GBA/Wii/Wii U)
Pikmin (TRG) (GCN/Wii/Wii U)
Star Fox 64 (N64/3DS)
Mario Party 8 (Wii)
Luigi's Mansion (GameCube/3DS)
Overcooked (PC/PS4/X1/NS) (with TomFawkes)
Nintendo Land (Wii U) (with MasaeAnela & TomFawkes)
Secret of Mana (SNES, NS)
100% Orange Juice (PC)
Side Collabs
Tournaments
It has been said that there has been a Super Smash Bros. Melee Tournament, but it has not been uploaded to YouTube. The results are unknown. Emile mentioned in the 10th anniversary TRG stream that the footage from this tournament was damaged beyond repair.
Colosseum
TheRunawayGuys hosted 'The Runaway Guys Colosseum' from May 4th-6th, 2018, with several guests and multiple games in order to raise money for Direct Relief. The final total was $112,610. A year later, they hosted a sequel, 'The Runaway Guys Colosseum 2019'. The following year was virtually streamed at their houses due to the pandemic and raised almost $240,000, breaking Colosseum 1+2's record. They did Colosseum 4 from May 7th-9th, 2021, and broke that record with over $411,000 in total. This is the most raised Colosseum in TRG Colosseum history, with Colosseum 3 right behind in second. There's currently plans for Colosseum 5.
Gallery
Trivia
Members of TheRunawayGuys

Other Members

KampyDK

• Yoshiller