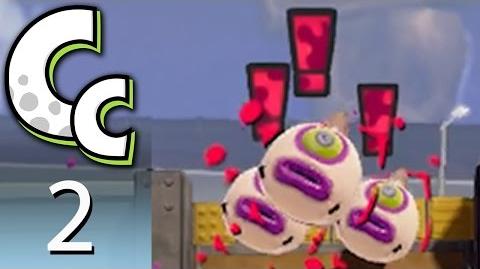 "Lair of the Octoballs" is the second episode of Chugga's LP of Splatoon. The episode was published on October 23rd, 2016. The episode is 32 minutes and 53 seconds long.
Description
We roll some Octarian heads then play a remarkably average weapon!
Levels Played
Level 02: Lair of the Octoballs ~ Splat Your Way to the Top! ~
Multiplayer Matches
The mode for all matches in this episode is Turf War, and the weapon played is the Tentatek Splattershot.
Match 1
Map: Moray Towers
Colors: Blue vs. Orange
Results: 64.9% - 24.1& (win)
Statistics:

2nd place on team
1616 points (616 points of turf covered)
11 kills
2 deaths
Match 2
Map: Kelp Dome
Colors: Yellow vs. Pink
Results: 51.0% - 41.6% (win)
Statistics:

2nd place on team
1901 points (901 points of turf covered)
11 kills
2 deaths
Bios
Splattershot (main weapon)
Tentatek Splattershot (main weapon)
Wasabi Splattershot (main weapon)
Burst Bomb (sub weapon) (for the first time)
Suction Bomb (sub weapon) (for the first time)
Splat Bomb (sub weapon)
Burst Bomb Rush (special weapon) (for the first time)
Inkzooka (special weapon) (for the first time)
Inkstrike (special weapon) (for the first time)
Template:SplatoonEpisodes