"I LOVE BYRON!!" is the 39th episode of Chuggaaconroy's Let's Play of Pokémon Platinum.
Description
Edit
"We fight a man who doesn't let his appearance define his personality!"
Chuggaaconroy takes on the Canalave City Gym and it's leader, Byron.
Pokémon Encountered
Edit
Major Battles
Edit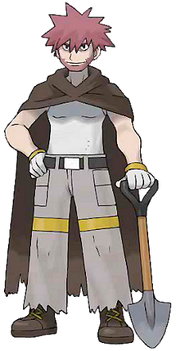 Emile vs. Byron
Edit
Emile's Team
Edit
Byron's Team
Edit
Magneton (Lvl. 38)
Steelix (Lvl. 38)
Bastiodon (Lvl. 42)
Winner: Emile (4 Pokémon Remaining, 1 Pokémon Fainted, 1 Egg)
Loser: Byron (0 Pokémon Remaining, 3 Pokémon Fainted)
Community content is available under
CC-BY-SA
unless otherwise noted.