"Johto Finale: Part 3: Bruno" is the 43rd episode of Chuggaaconroy's Let's Play of Pokémon Crystal, and the third episode in the Johto Finale Arc.
Description
Edit
"Bruno, The Austrian Prince!"
Chuggaaconroy takes on a familiar foe, the penultimate memeber of the Johto Elite Four, Bruno.
None
Pokémon Encountered
Edit
 Major Battles
Edit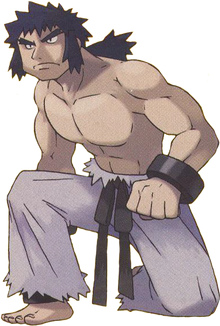 Emile vs. Bruno III
Edit
Emile's Team
Edit
Bruno's Team
Edit
Hitmontop (Lvl. 42)
Onix (Lvl. 43)
Hitmonchan (Lvl. 42)
Machamp (Lvl. 46)
Hitmonlee (Lvl. 42)
Winner: Emile (5 Pokémon Remaining, 1 Pokémon Fainted)
Loser: Bruno (0 Pokémon Remaining, 5 Pokémon Fainted)
Community content is available under
CC-BY-SA
unless otherwise noted.