"Johto Finale - Part 2: Koga" is the 42nd episode of Chuggaaconroy's Let's Play of Pokémon Crystal, and the second episode in the Johto Finale Arc.
Description
Edit
"The thumb-sucker who thinks he's a ninja, Koga!"
Chuggaaconroy takes on a familiar foe, the second memeber of the Johto Elite Four, Koga.
None
Major Battles
Edit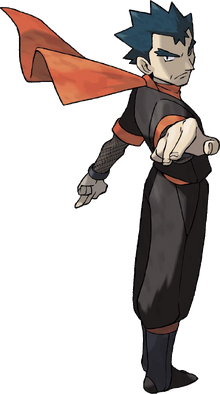 Emile vs. Koga II
Edit
Emile's Team
Edit
Koga's Team
Edit
Ariados (Lvl. 40)
Forretress (Lvl. 43)
Muk (Lvl. 42)
Venemoth (Lvl. 41)
Crobat (Lvl. 44)
Winner: Emile (5 Pokémon Remaining, 1 Pokémon Fainted)
Loser: Koga (0 Pokémon Remaining, 5 Pokémon Fainted)
The side bar of Koga's Venemoth contains an error, it states Venemoth's level to be 40, when in fact is is level 41.
Community content is available under
CC-BY-SA
unless otherwise noted.