"We Met on the Subway" is the twentieth episode of Emile's LP of Pokémon Black & White.
 Description
"We go to Gear Station to see the Battle Subway and everything that comes with it!"
Summary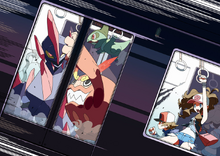 Emile/Blair explores the Battle Subway of Nimbasa City. He and Hilda take on the multi-train battle, with Emile's Archen and Terrabite, alongside Hilda's Druddigon and Bouffalant.
Pokémon Bios
Trivia
First appearance of Hilda. Her appearance results in Emile revealing the reason behind Blair's name also applying to Whitlea.
First mentions of the Subway Bosses.
This is the final Chuggaaconroy episode of 2017.