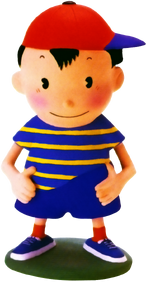 "Well, now that the Earth's crisis is finally over, I think I'll just lay down for a moment and Zzzzzzzzz" -Ninten

Ninten is the main protagonist of Mother.
Ninten's first appearance in was in Part 1: When Lamps Attack. He would later be joined by Ana, Lloyd (also spelled sometimes as "Loid") and Teddy. He was tasked by Queen Mary with finding 8 melodies that were scattered across America. With the help of Ana , Lloyd , and Teddy , Ninten (with a little of Emile's input) found the 8 melodies that could put the kibosh (don't you just love using unusual words in your wiki entries?) on Giygas's (who is refered to as Giegue) evil plans.
Ninten is very similar to the Earthbound character of Ness.

In fact, Ninten is theorized by many to be Ness's unseen father in Earthbound.
Some people say that the sprite for Ninten is similar to Charlie Brown.
Community content is available under
CC-BY-SA
unless otherwise noted.