N is a character in Pokémon Black & White. He is the leader of Team Plasma, and serves as a rival to Blair/Emile.
Pokémon Black & White
N appears in the cold open. He crowned by Ghetsis, in a Team Plasma ceremony attended by Anthea, Concordia, Gorm, Bronius, Rood, Zinzolin, Giallo, and Ryoku.
Later, he is seen in Accumula Town, attending a rally held by Ghetsis and Team Plasma. He battles Blair/Emile with his Purrloin, but loses to Blair and Ottawa.
N battles Emile outside Nacrene City Gym to "test" him. N, and his Pidove, Tympole, and Timburr, are defeated singlehandedly by Blitzle.
Emile meets N outside the ferris wheel in Nimbasa City.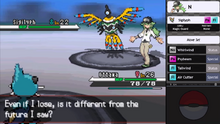 They battle, and N is revealed to be the King of Team Plasma.
He then announced to Emile his intention to become the Champion of Unova.
N appears in the Chargestone Cave, along with the Shadow Triad.
N and Emile talk outside the Mistralton City Gym, and he speaks to Haywire directly.
Emile finds N at the top of Dragonspiral Tower with Reshiram. He again mentions that he plans to become the Champion of Unova, and that it will allow him to make a world 'for Pokémon alone.'
He predicts that Emile will meet Zekrom, and that if he wants to stop N's plans, he must find Zekrom.
Pokémon Team
Current Roster
Former Pokémon
Purrloin
Pidove
Timburr
Tympole
Sandile
Scraggy
Darumaka
Sigilyph
Boldore
Ferroseed
Joltik
Klink
Trivia
Community content is available under
CC-BY-SA
unless otherwise noted.