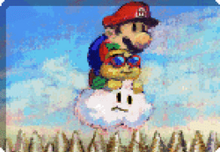 Lakilester, also known as Spike or Spike???, is one of Mario's (Chugga's) allies in Paper Mario.
Paper Mario Edit
Lakilester is one of the main protagonists of Paper Mario. In Chapter 6 - Part 5, Lakilester, on orders from Huff N. Puff, attacked Mario and Bombette. Mario and Lady Bow then defeated him. His girlfriend, Lakilulu, then jumped in and defended Lakilester and convinces Mario to forgive him. Lakilester then sees the error of his ways and reforms. He then joined Mario on his quest to defeat Bowser and rescue Princess Peach.
Super Paper Mario Edit
Lakilester appeared as a Catch Card.
Emile gave him a voice that "sound like a combination of Al Capone and Chad Warden"
He changed his name to "Spike" a month before the events of Chapter 6 - Part 5.
Community content is available under
CC-BY-SA
unless otherwise noted.