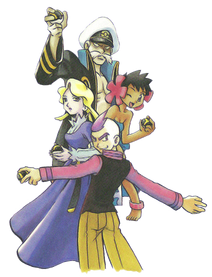 The Hoenn Elite Four is the official name of the Elite Four of the Hoenn Region in Chuggaaconroy's Let's Play Pokémon Emerald.
The Elite Four first appears in Pokémon Emerald - Episode 56. They are battled in the episodes Episode 56, Episode 57 and Episode 58. They were are all defeated by Emile and his team.
The Hoenn Elite Four was the third Elite Four battled by Emile.
Community content is available under
CC-BY-SA
unless otherwise noted.