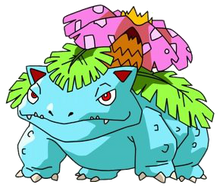 Gregj is Stephen Georg's Venusaur in Stephen Plays: Pokémon LeafGreen.
Pokémon LeafGreen Edit
He appears in Stephen & Chuggaaconroy Catch Mewtwo! (Pokémon #62), although he never fought in a battle during that episode.
Current MovesEdit
Frenzy Plant (#? - #62)
Cut (#? - #62)
Giga Drain (#? - #62)
Razor Leaf (#? - #62)
Previous MovesEdit
Nickname Origin
Edit
Unknown
Gregj was the only Pokémon in Stephen's party who did not assist in the battle to capture Mewtwo.
The J is silent.
Community content is available under
CC-BY-SA
unless otherwise noted.