Not to be confused with End Boss, a character in Super Paper Mario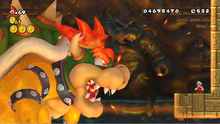 A Final Boss is the last boss present in any given LP or Collab which contains boss fights.
Definition
Edit
The definitions may vary, but typically it defins the last boss fight in the main storyline. For example, in Super Mario RPG while Culex is a stronger boss, Smithy is the final boss of the game, as it is his battle that initiates the credits and the end of the game. Also some games, such as Super Mario Sunshine, contain final boss battles with more than one characters participating in the one fight, Bowser and Bowser Jr..
Final Bosses in Solo LPs
Edit
Spoiler warning!
This article contains plot details about one or more Let's Plays/Collabs.
Community content is available under
CC-BY-SA
unless otherwise noted.