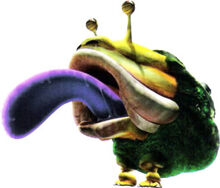 The Emporer Bulblax, or Oculus supremus, is a species on PNF-404 in the Pikmin Series. One of them serves as the final boss of the original Pikmin.
Pikmin 1 Edit
See: Emperor Bulblax (Pikmin 1)
Pikmin 2 Edit
The Bulblax seen in this game are noticably smaller than the last and they appear regularly as mini-bosses.
Community content is available under
CC-BY-SA
unless otherwise noted.