This article is about the final boss of Pikmin 1, for the species in general see: Emperor Bulblax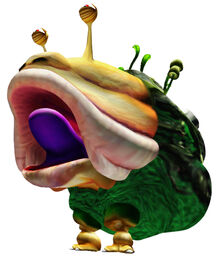 This Emporer Bulblax was a specific Oculus supremus who served as the final boss of Pikmin.
This Bulblax was first encountered in the The Final Trial area in Finale. A long and grueling battle between the Emperor and Olimar & his Pikmin army. Ultimatley, the Bulblax was killed by Olimar's army. The Emperor Bulblax killed 3 Pikmin overall. Bulblax dropped the thirtieth and final ship part, the Secret Safe.
This Emperor Bulblax was noticeably bigger than those found in Pikmin 2.
Community content is available under
CC-BY-SA
unless otherwise noted.