Zoroark is Emile/Blair's un-nicknamed Zoroark in Pokémon White.
Pokémon Black & White
Emile approached Zoroark in the Lostlorn Forest, where she took the disguise of a silent young woman living alone in a camper.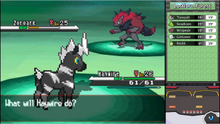 Emile later returned with his Entei in his party, upon which Zoroark took the form of Suicune and attacked. Her disguise faded after taking a Water Pulse from Ottawa, and after a lengthy battle in which she knocked out Haywire—though the Blitzle managed to paralyze her first—Emile caught her in an Ultra Ball with Terrabite on the field.
Zoroark, along with the rest of Emile's catalog of Pokémon, was seen in the PC when Emile was looking for a Pokémon to teach Fly.
Stats
Zoroark has a Brave Nature, increasing her Attack stat and decreasing her Speed stat.
Moves
Trivia
For some reason, this Zoroark was made a separate event than Zorua.