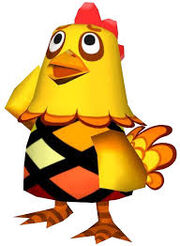 Egbert is one of Emile's animal villagers in Animal Crossing: New Leaf. Egbert is a techno-geek.
History
Egbert moved from Leafside to Palette on Day 6. 
On Day 28 he got sick, and recovered 2 days later.
Trivia
Chugga gave Egbert a mars rover, which he displayed in his house.
Egbert was in Chugga's first Animal Crossing town.
Chugga made Egbert's greeting "Eggggggggggggggg."
Chugga built a town clock in front of his house, so that Egbert would know when to get up and go "COCKADOODLEDOO!"
He is Chugga's only villager to move to Palette via streetpass.
Emile met an Alternate Univers version of him living in Wee P!mp during episode 28.