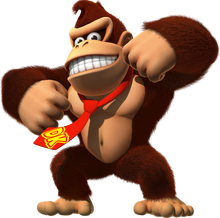 Donkey "DK" Kong is the protagonist of many video game, a gaming icon and is often the character that Chugga plays as in many of his Let's Plays and Collabs.
Mario Party Series
Edit
See: Mario Party Stats
Donkey Kong appears in Mario Party controlled by Emile. Donkey Kong wins 5 boards and the game.
Donkey Kong appears, controlled by Emile. Donkey Kong wins 2 boards.
Emile plays as Donkey Kong. Donkey Kong wins 2 boards and ends second overall behind Yoshi (Tim). Donkey Kong did have the best stats (most stars).
Mario Party 4 is the last playable appearance for Donkey Kong till Mario Party 10. Donkey Kong won the final board with a lot of luck with chance time and 3 ? spaces in a row. This prevented Waluigi (Jon) to clean sweep the whole game. This was also Donkey Kong's 10th victory. This was also DK's last board.
Mario Party 5-7 Edit
Donkey Kong is put into the DK Spaces starting in Mario Party 5, so Chugga begins to play as Princess Daisy. (Emile had originally planned to be Toad, but a certain ProtonJon livestream changed that).
Mario Party 8 Edit
DK operates this board. He works a cannon, but Toad (Emile) declines to use it.
Super Smash Bros. Brawl
Edit
DK is a playable protagonist in Brawl.
Appearances
Edit
Playable
Edit
The Runaway Guys
Edit
Emile had never played a Donkey Kong game before playing as DK.
All of Emile's Mario Party board victories have come as DK; since changing to Daisy he has yet to win once, with everyone else (including the AI) winning at least once.

He has since fixed that following his change to Toad for Mario Party 7, though a stream of Super Mario Party saw him go back to Daisy because DK was not yet unlocked and Toad returned to hosting.

In the TRG Animated scenes Emile is usually depicted as DK.
Community content is available under
CC-BY-SA
unless otherwise noted.