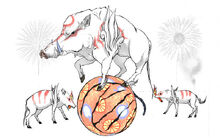 Bakugmi is a Celestial Brush God of the Power Slash in both Ōkami and Ōkamiden.
Ōkami
In Episode 5, in the Shinshu Field, Amaterasu awakened Bakugami and his piglets, after he was imprisoned for years. Bakugami then grants the Amaterasu the of the Cherry Bomb.
Ōkamiden
Bakugami appears again in Ōkamiden, alongside his children.
Trivia 
Bakugami is completely unrelated to Bakugan toys.