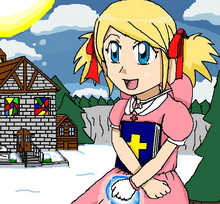 Ana is a playable protagonist in Mother.
Mother
Mother - Part 19: You can call me (Polly)Ana
Ana first appeared. She is visited by Ninten and Lloyd. Ana reveals that she dreamed about Ninten coming to see her, predicting the future. She joins Ninten and Lloyd in order to locate her mother. With a little of Chuggaaconroy's input, Ana was able to help Ninten and Loid defeat Giygas. We last saw Ana at Level 25.
Moves
Telepathy (Level 1)
LifeUp β (Level 1)
PK Freeze α (Level 2)
PK Thunder α (Level 2)
Brainshock (Level 3)
PSI Shield α (Level 4)
PK Beam α (Level 5)
Healing α (Level 6)
PSI-Magnet (Level 7)
PK Freeze β (Level 8)
PSI-Block (Level 8)
Hypnosis (Level 9)
PK Thunder β (Level 9)
PSI Shield β (Level 9)
PK Beam β (Level 11)
LifeUp γ (Level 12)
Healing β (Level 13)
Healing γ (Level 14)
Healing π (Level 15)
Paralysis (Level 15)
PK Fire α (Level 17)
SuprHealing (Level 18)
Shield-off (Level 19)
Darkness (Level 20)
PK Freeze γ (Level 21)
LifeUp π (Level 22)
Powershield (Level 24)
PK Beam γ (Level 25)
Trivia